⏰VNC ELECTIONS - TUESDAY IS THE LAST DAY TO VOTE! DROP BOX OPEN⏰
Posted on 06/07/2021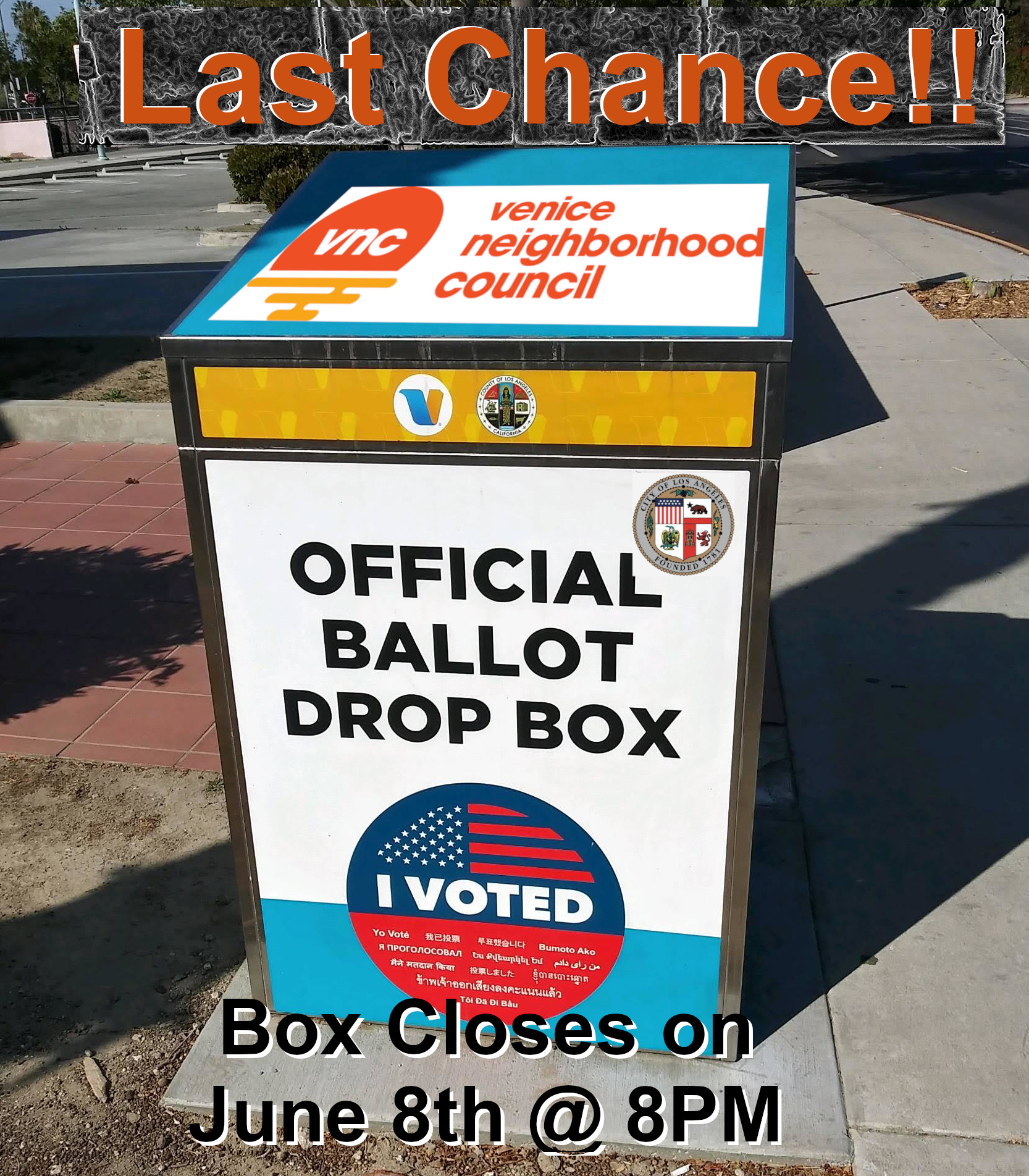 ⏰There IS ONLY 1 DAY LEFT to vote in the 2021 election!
The last day to send in your ballot is TUESDAY, JUNE 8th!
🗳DROP BOX IS OPEN UNTIL 8PM TUESDAY, JUNE 8th.
Once you receive your ballot from the City Clerk, please make sure to follow the enclosed voting instructions and place your completed ballot in the provided Return Envelope. Make sure to sign and complete the outside of the envelope as well.
■■ If you have applied and not yet received your ballot, please call the LA City Clerk immediately, direct line: (213) 978-0444.
■ Voting can be done by either returning your ballot via US Mail (postmarked no later than June 8th) or placing your ballot in the secure 🗳 Drop Box outside the 📚Venice Abbot Kinney Memorial Branch Library, 501 E. Venice Blvd. The Drop Box is located on the South Venice Blvd. side of the building.
📌GIVEN THE CURRENT SITUATION WITH THE U.S. POST OFFICE, WE STRONGLY RECOMMEND THAT YOU USE THE DROP BOX.
PLEASE DON'T WAIT UNTIL THE LAST MINUTE TO SEND IN YOR BALLOT.
Before voting, please take the time to learn more about the many Candidates running for VNC Board positions. Many of them have been busy campaigning out and about, but you can find out more about them by viewing their statements in the VNC Voter Guides that have been distributed to households throughout Venice.
The Voter Guide
contains Candidate Statements, photos, and general voter information. If you haven't received one, you can find a downloadable version on the
VeniceNC.org
website
HERE

.
Another method to help you decide your votes is to view the video recordings of VNC's three virtual Candidate Forums:
VNC Candidates Forum I - Community Officers
VNC Candidates Forum II - Community Officers
VNC Candidates Forum III - Executive Officers