VENICE NEIGHBORHOOD COUNCIL BOARD WEBINAR~TUESDAY, AUGUST 18th~7pm!
Posted on 08/16/2020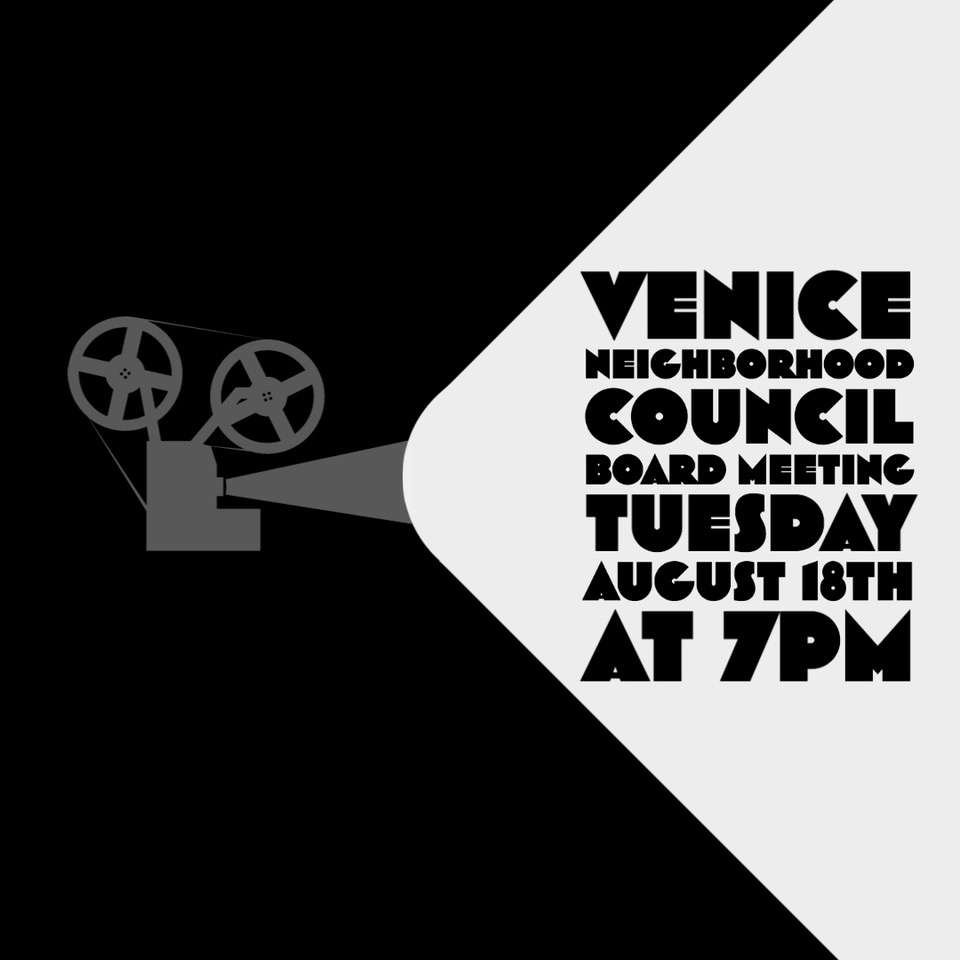 YOU ARE INVITED TO THE VENICE NEIGHBORHOOD COUNCIL GENERAL BOARD WEBINAR!
When: TUESDAY, JULY 21st, 2020, at 7pm via ZOOM
Please click on the agenda link below:
https://www.venicenc.org/ncfiles/download/107
Please click the link below to join the webinar:
https://zoom.us/j/92381583802​

Or iPhone one-tap:
US: +16699006833,,92381583802# or +12532158782,,92381583802#

Or Dial by Telephone:
US:+1(669)900-6833 or +1(253)215-8782
Dial Toll Free: (877) 853-5257 or (888) 475-4499, Webinar ID: 923 8158 3802
International numbers available at: https://zoom.us/u/aAzkW33Wl
PUBLIC INPUT AT NEIGHBORHOOD COUNCIL MEETINGS:
The public is requested to dial *9, when prompted by the presiding officer, to address the Board on any agenda item before the Board takes an action on an item.
Comments from the public on agenda items will be heard only when the respective item is being considered.
Comments from the public on other matters not appearing on the agenda that are within the Board's jurisdiction will be heard during the General Public Comment period.
**Please note that under the Brown Act, the Board is prevented from acting on a matter that you bring to its attention during the General Public Comment period; however, the issue raised by a member of the public may become the subject of a future Board meeting.
***Public comment is limited to 30 seconds per speaker unless adjusted by the presiding officer of the Board.
--Virtual Board Meeting Rules:
● Raise your hand if you have a public comment only WHEN we get to that specific item.
● Raise your hand at the start of the items you want to speak on. We will then close public comment and announce the last person to speak a few minutes after the start of the item.
● After you speak, please lower your hand.
● PLEASE DO NOT RAISE YOUR HAND MORE THAN ONCE PER ITEM
● All panelists (board members) and attendees (public) will be muted until administrator Ira, Melissa or George unmute you for comment.
● Board members will get one chance to speak for a max of 2 minutes per item.
● No ceding your time to others will be allowed
● The meeting is being videoed and audio recorded
● The public will be able to listen and speak but their video will be disabled.
ALL PRESENTERS THAT HAVE ITEMS TO PROJECT ARE TO SEND THEM TO sec@venicenc.org & president@venicenc.org

TO HAVE THEM SHARED WITH THE MEETING, KEEP A COPY OF THEM ON YOUR DESKTOP AS A BACKUP.