Joint VNC Board & Administrative Committee Virtual Meeting - Monday, August 10th~7pm
Posted on 08/12/2020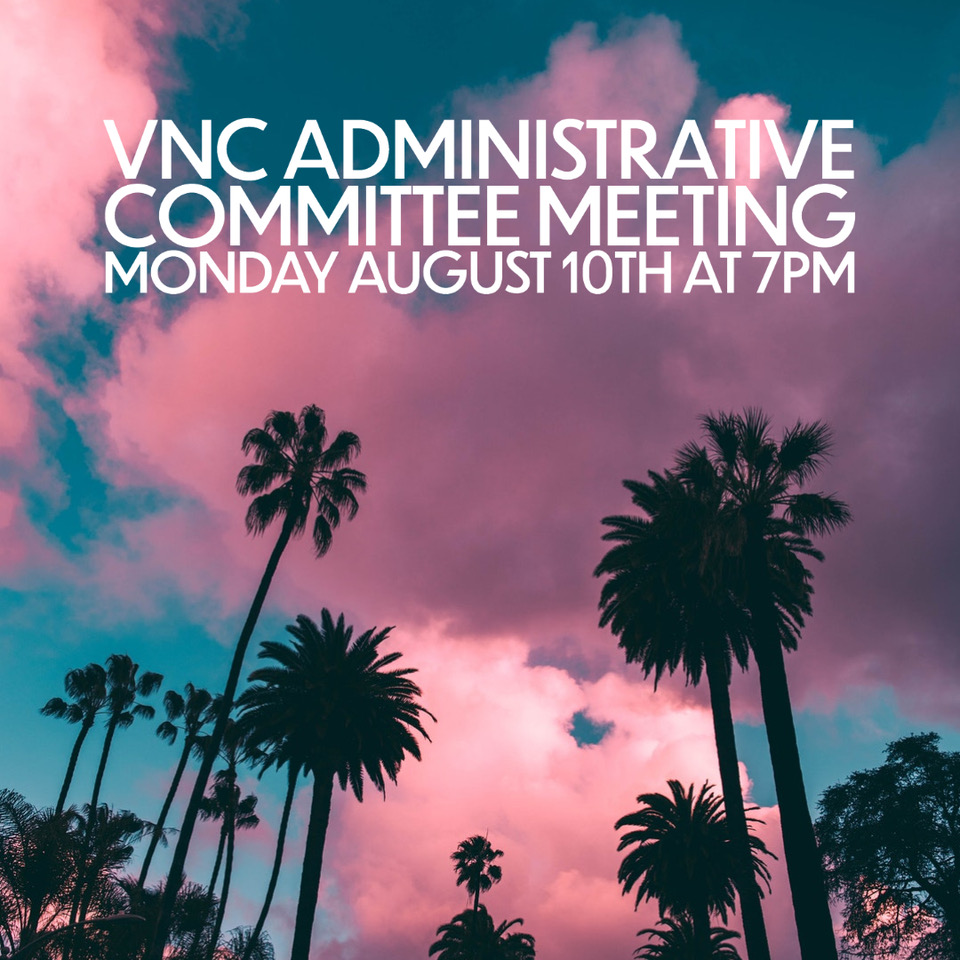 You Are Invited to a Joint VNC Board & Administrative Committee Virtual Meeting.
When: Monday, August 10, 2020, 7pm via Zoom

Please click on link below for the Agenda:
https://www.venicenc.org/ncfiles/download/109

Please click the link below to join the webinar:
https://zoom.us/j/91425379565

Or iPhone one-tap : US: +16699006833,,91425379565# or +13462487799,,91425379565#

Or Dial by Telephone: US: +1 669 900 6833 or +1 253 215 8782
Toll Free: 877.853.5257 or 888.475.4499
Webinar ID: 914 2537 9565
International numbers available at: https://zoom.us/u/agia7x8Y

PUBLIC INPUT AT NEIGHBORHOOD COUNCIL MEETINGS:


● The public is requested to dial *9, when prompted by the presiding officer, to address the Board on any agenda item before the Board takes an action on an item.
● Comments from the public on agenda items will be heard only when the respective item is being considered.
● Comments from the public on other matters not appearing on the agenda that are within the Board's jurisdiction will be heard during the General Public Comment period.
**Please note that under the Brown Act, the Board is prevented from acting on a matter that you bring to its attention during the General Public Comment period; however, the issue raised by a member of the public may become the subject of a future Board meeting.
***Public comment is limited to 30 seconds per speaker, unless adjusted by the presiding officer of the Board.
--Virtual Board Meeting Rules:
● Raise your hand if you have a public comment only WHEN we get to that specific item.
● Raise your hand at the start of the items you want to speak on. We will then close public comment and announce the last person to speak a few minutes after the start of the item.
● After you speak, please lower your hand.
● PLEASE DO NOT RAISE YOUR HAND MORE
THAN ONCE PER ITEM
● All panelists (board members) and attendees (public) will be muted until administrator Ira, Melissa or George unmute you for comment.
● Board members will get one chance to speak for a max of 2 minutes per item.
● No ceding your time to others will be allowed
● The meeting is being video and audio recorded
● The public will be able to listen and speak but their video will be disabled.
ALL PRESENTERS THAT HAVE ITEMS TO PROJECT ARE TO SEND THEM TO sec@venicenc.org & president@venicenc.org